Lavandula angustifolia 'Miss Katherine'
lavender

£0.00
size:

9cm pot

available within:
Dense spikes of strongly scented, deep-pink summer flowers and aromatic, grey-green leaves. This pretty, pink English lavender is the most fragrant and deepest shade of all pink-flowered varieties. Perfect for edging a sunny path or border, the flower-stalks should be cut back after flowering to retain the plant's neat habit.
Position:
full sun
Soil: moderately fertile, well-drained soil
Rate of growth:
average
Flowering period:
July to September
Flower colour:
deep pink
Other features:
the aromatic flowers and leaves can be used for making pot-pourri
Hardiness:
fully hardy

Garden care:
Cut back the stalks after the flowers have faded. Carefully trim back in April, taking care not to cut into old wood.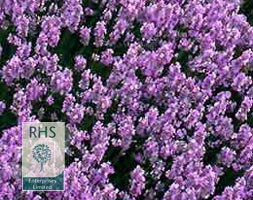 Eventual Height: 0.75m
Eventual Spread: 0.75m