RHS Collections
Sempervivum & pot combination
Position: full sun
Soil: must be freely draining, so mix 3 parts John Innes No1 or No2 compost with 1 part grit or sharp sand
Hardiness: fully hardy

Sempervivums are low-maintenance sun-lovers, so this pot and plant combination is perfect if you have a busy lifestyle, but still want something that offers year-round interest. The 6 un-named plants you will receive in this collection are all different and the varieties will vary depending on availability and the time of the year. They are all quite different, but they all have rosettes of succulent leaves and clusters of star-shaped summer flowers. After each rosette has produced flowers it will die off, but it is soon replaced with a new lateral rosette that will form on a runner. A navy blue glazed ceramic pot will accompany the plants and this is guaranteed frost proof and comes pre-drilled with drainage holes. It measures 26cm in diameter and is 17cm high, so is nice and roomy for your new plants.


Garden care: After planting apply a layer of decorative shingle to the top of the pot for a more 'finished' look. Cut back spreading species after flowering. Water moderately when actively growing and avoid winter wet.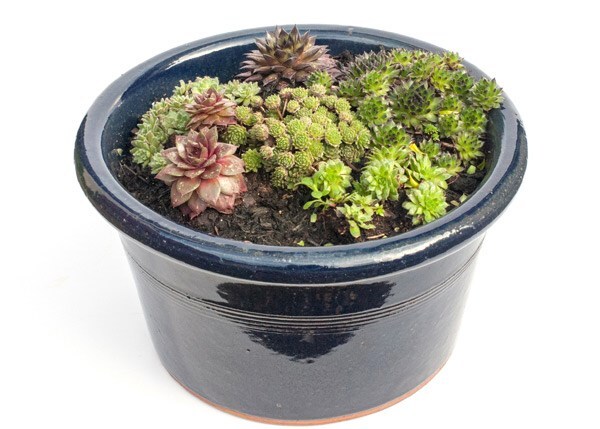 Items within this collection