RHS monthly offers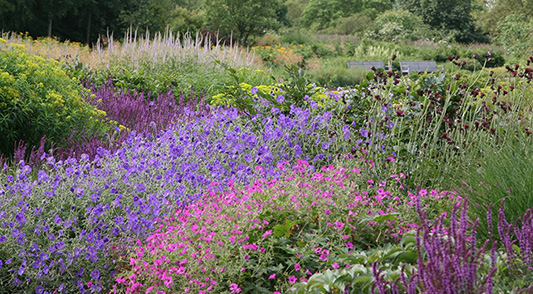 RHS WISLEY BORDER COLLECTION
MULTI-BUY - BUY 3 COLLECTIONS (3 OF EACH PLANT) FOR £48.00 AND SAVE £12.00
This collection will help you recreate a section of the much-admired Glasshouse Border at the RHS Garden Wisley. Designed by the renowned Tom Stuart-Smith, it will fill your garden with dazzling jewel-like colours throughout the summer.
Consists of: Euphorbia palustris, Salvia nemorosa 'Amethyst', Geranium 'Orion', Geranium Patricia ('Brempat')
RHS VIBRANT BORDER COLLECTION
MULTI-BUY - BUY 3 COLLECTIONS (3 OF EACH PLANT) FOR £34.00 AND SAVE £17.00
Instill a fresh contemporary feel with the perennials that make up this eye-catching collection. When planted in a sunny spot, they will offer vibrant colour from midsummer - as well as attracting beneficial insects.
Consists of: Helenium 'Waltraut', Eryngium bourgatii 'Picos Amethyst', Achillea 'Taygetea'
More offers