RHS monthly offers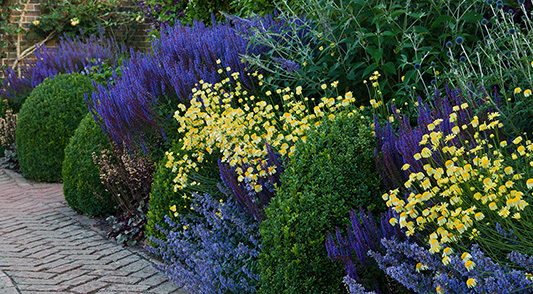 BLUE & YELLOW BORDER COLLECTION
MULTI-BUY - BUY 3 COLLECTIONS (3 OF EACH PLANT) FOR £30.00 AND SAVE £15.00
When planted side by side, the dynamic contrast in both colour and form that these plants offer, creates a dazzling display that will last throughout the summer. Ideally suited to a sunny border with freely draining soil, the anthemis and salvia will also help attract bees and other pollinators.
Consists of: Salvia nemorosa 'Ostfriesland', Anthemis tinctoria 'Sauce Hollandaise', Nepeta racemosa 'Walker's Low'
DIASCIA PENHOW LITTLE SERIES COLLECTION
MULTI-BUY - BUY 3 COLLECTIONS (3 OF EACH PLANT) FOR £24.00 AND SAVE £12.00
Showy and long-flowering, diascias are invaluable for rockeries and pots, and can also be used to soften the edges of a path or border. These cultivars are noted for their tight, clumping habit and abundance of flowers, which usually appear continuously from early spring to autumn.
Consists of: Diascia 'Little Dancer' ('Pendan') (PBR), Diascia 'Little Dazzler' ('Pendaz') (PBR), Diasica 'Little Drifter' ('Pendrif') (PBR)
More offers